SA Axolotl Diet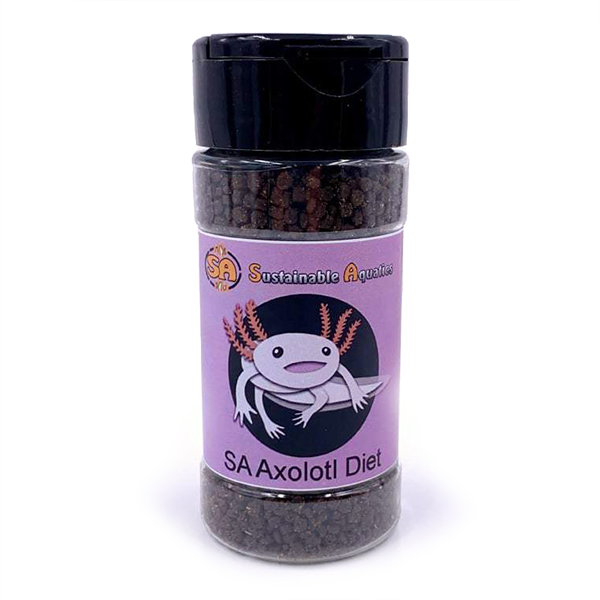 SA's Axolotl Diet was formulated using the experience and knowledge of SA's nutritional technologies for fish feeds. The base soft/moist pellet selected for this feed was developed by Rangen, a business of almost 100 years of age, for the cold-water feeding of salmon. SA's nutritional technologies include the processing of algae, oils, and nutritional additives critical for vertebrate health and are added to this diet through a special formulation of SA's "Topcoat."

The base food pellets are extremely nutritional. At SA we have seen a big improvement in the health, growth, and reproduction of axolotls using the SA formulation. The pellet is a sinking feed and stays together without disintegrating for 24+ hours, although the smell and palatability generally results in them being consumed immediately!

SA's Axolotl diet can be stored at room temperature for several months but must be in an airtight container to prevent drying. For long-term storage (up to one year), refrigeration is recommended.
Ingredients: Fish meal, Wheat flour, Soy lecithin, Cod Liver Oil, Squid meal, Shrimp meal, Brewers dried yeast, Bentonite, Dicalcium phosphate, Propylene Glycol, L-ascorbyl-2-polyphosphate (vitamin C), Choline chloride, Wheat, Gluten, Spirulina algae powder, Kelp Extract, Natural Astaxanthin from H. pluvialis, Schizochytrium algae (additional source of DHA), Selenium, Taurine, Vitamin E supplement, Niacin supplement, d-Calcium pantothenate, Riboflavin supplement, Garlic oil, Thiamine mononitrate, Biotin, Pyridoxine hydrochloride, Folic acid, Vitamin A supplement, Vitamin D3 supplement, Vitamin B12 supplement, Inositol, Manganese sulfate, Zinc sulfate, Ferrous sulfate, Sodium selenite, Potassium iodate, Propionic acid (preservative), Sorbic acid.